Happy Spring Equinox! So many of our AiryFairy Airplants started blooming this week, this is one of them. I've never seen yellow blooms and be fragrant until now either! Nature is truly beautiful and magical. I always look at nature's patterns for inspiration and reflection. Mother Nature does not know good or evil, just what the world needs to move forward. We need all seasons, even if we don't like some parts of it. Just like nature, we have personal seasons. This is why I love Chinese Medicine, this is the foundation. Whenever I'm present to my personal season and nature's season, I'm in flow and appreciate every experience.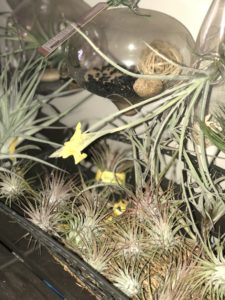 As you walk across trees, take a look at them, there are little leaves and buds on it. Things are starting to sprout…Like the trees, be grounded and you can grow through every season, unless you are an airplant! =)
I encourage you to look at your vision/dream board to get grounded again. If you don't have one, make one now. Connect with your hearts desires and check to see where/how it's grown. This week at the Ascension Station I'm having everyone plant their seeds of intention and place it with our tree of life. Come to our events this week and get grounded again for this season's flow.
Thursday Jim is doing a Mercury Retrograde Preparation Workshop 7-8:30p. This is a loooong retrograde lasting til 4/15. It's really a chance for you to CHOOSE again and set boundaries.
Sunday we have Yoga Nidra with Essential Oils 11-1 and our Spirit Fair 1-5P.
Then Tuesday March 27th we have our new "Acrylic Unfolding:  Paint from Your Soul."