Omg-I just found this blog I wrote in my drafts. It was never published but its essence is the same to what I'm experiencing now…again….nothing goes away til you learn what you need to learn (Pema Choldron). Perhaps the message is relevant to you as well: You are always one decision from a new beginning. My expansion on this now is, "you are writing a new story and its nothing like the ones you've written before."
Every week I try to do 3 things that feed my SOUL. Most of the time I actually have to schedule it in otherwise I don't make room for it. It usually has to be of the following: something creative, something to build a relationship, and something involving nature.
This week one message stuck me from the soulful things I did. When things pop into my awareness 3 times in a short period, it's the Universe telling me: PAY ATTENTION! In some weird way, it's the answers I'm seeking. I hope this message moves you.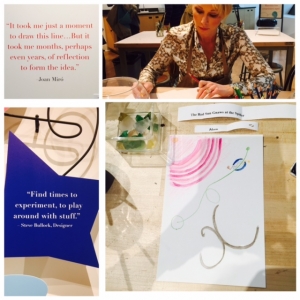 Carrilyn and I went to the Denver Art Museum for our girl bonding. One of Joan Miro's painting had a message that read "It took me just a moment to draw this line…But it took me months, perhaps even years, of reflection to form the idea." I giggled because it was the most simple picture of a line. I mimicked it, adding my personal touch, in the Inspiration Lounge.
A few days later Cosmo and I took a different route on our soul stroll. I got to this bridge and it reminded me of the ending in the movie Wild. Reese Witherspoon's character ends up at the Bridge of Gods. The movie wraps up where she says it took her 4 years to get to this moment but only a minute to cross.  After she crossed it, she came back to civilization and wrote a best selling book, got married, and started a family. (It's a true story of Cheryl Stray)
The next day I randomly select a meditation from Deepak and Oprah. Oprah says "You are always one decision from a new beginning."
How does this all tie together? Everything you've done on your journey has prepared you for this PRESENT moment. You are READY. You just have to DECIDE. You can draw the line or cross the bridge if you choose to. If you don't like it, you can always erase the line, draw over it, or go back to the other side. You are just one decision from something new, something bigger, something more creative. It's really a SIMPLE act that starts the chain of reactions.
After I mediated, I wrote down my desires, challenges, fears, and indecision I've had for the past year. I looked at where I strayed and what showed up to help me. At that moment I made decisions and focus wheels for them. It's been only a few weeks but new friendships have formed, a trip to Sayulita MX is happening, I'm learning about face reading, and my new motorcycle arrived!
Don't you love it when things show up magically? May lines, bridges and magic and show up for you!
Would love your shares when you decided on something and magic appeared…or let me know how this shifted you to decide in the comments below. Namaste!