I freakin love the note above! It's so brilliantly done and really is a shift in perception. It's a matter of perspective and how you chose to see your day, just flip it upside down!
Recently I did the 21 Day Meditation Challenge from Oprah and Deepak on Gratitude. In one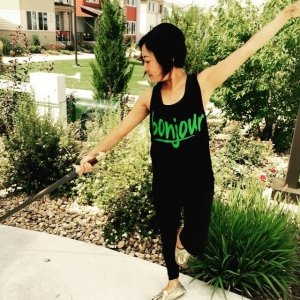 of the meditations Oprah says, "God puts a rainbow in every cloud. Stop your crying and say thank you. A rainbow is coming even though you can't see it; it's already there. The light of your rainbow can transform any experience for you and you can transform any experience for someone else. Prepare yourself so you can be part of a rainbow in anyone else's cloud."
This was and is HUGE for me because I'm currently healing from a severe flare of ulcerative colitis. When I did this mediation I was at a very acute stage where my mom had to come out to take care of me. I was angry, fearful, depressed. This auto-immune I have is a condition I must accept and live with for the rest of my life. The only real cure is to have my colon removed. It was really hard to see the rainbow. After I did this meditation, I asked how it has helped me, what's right about it and what is right about NOW.
Then I saw the light. Your anger, fear, disappointment, disease, and enemies are your greatest teachers.
This chronic condition is my blessing and curse. It is because of my condition it has opened doors for me with experiences, relationships, and living presently. It gives me an edge and come with grace, appreciating so many things in life. This time around, it gave me 2 weeks with my mom that I haven't had in over 20 years. We got to know each other as adults in this new stage of our lives. I will never be able to get this time back, it was truly a gift. It brought me to a Qigong and a Chinese Medicine practice that is transforming me and another calling.
For all those who have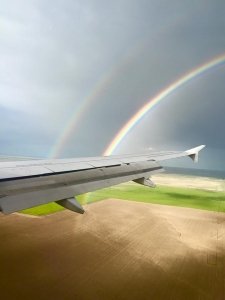 chronic illnesses, know that it doesn't define you. You are not your disease or alone, but you must accept it. It challenges you but don't let your suffering go in vain. There is always a lesson in it. God would never give you more than you can't handle. Listen to your body because it is trying to tell you something.
The philosopher Joseph Campbell said, "We must be willing to let go of the life we have planned, so as to accept the life that is waiting for us." Know that this will pass and ask yourself, who will you choose to be, what legacy will you leave, how will you choose to live? Asking this will start your healing.
Sending you love, peace, courage, strength, healing, magic, unicorns, and double RAINBOWS!