Did you watch the total solar eclipse yesterday? Were you excited or was it just another day?
A lot of my friends were surprised I didn't put more excitement into it. I know its a historical time in the real and spiritual world. Anything is impactful with the perception and belief you choose to put on it, it's all ENERGY!  You can start at any time as long as you understand the season and the season YOU are in. If it helps to believe that this marks the end of a time, especially a bad time, let it represent that.
Perhaps this will help you understand energy more and ride all cosmic energy to create, let go, upgrade, manifest, dream, and follow your heart and intuition.
I use all holidays, new moons, full moons, super moons, eclipses, meteor showers as markers,chapters and energy waves. It's like I was surfing and I get to choose the waves I want to ride. I ask what does this really mean, what does it mean for me at this time, where is my body at, where is my mind at, what has consistently showed up, what perspective must I adapt to, who do I want to do this adventure with, who can I help, who can help me, what must I let go of, how do I make this fun, how can I come in more grace, what is the highest good, what is this energy about, what is harmony and balance. The eclipse in conjunction with mercury in retrograde and a new black moon, can be a really BIG for you to ride if you are ready for it.
I love the symbolism of the eclipse. Darkness has a purpose, it may be the parts of us that we don't like and must learn to accept. It also allows us to rest and really see the stars/light. So this for me at this time meant of a time of appreciation. I used it to appreciate everything in this past year. I spent the month letting go of old stuff by blessing it and passing it to another. I let myself go deep and dark with fears, expectations, judgments, and vulnerabilities. I connected with old friends. I created sacred space. I did a lot of energy clearings for people and spaces. I sent many entities to the 5th dimension with healing, love, peace, and joy. I dreamed about this new phase of motherhood, family, community, and the ascension station of So You Boutique.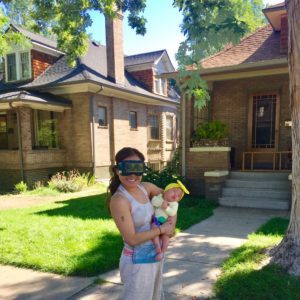 What was great about the solar eclipse is it brought together all types of folks. Collectively that energy is fun, hopeful, and clearing. It reminds us how small we are the how powerful the universe is. I used that energy with play and asked it give me strength, and to shed light on all the dark places.
This energy is really the beginning, it can be a subtle clearing or a shift in your belief/DNA. It will unfold depending on how long you plug into it and feed the energy.